If you've ended up getting a cropped pixie cut or even a bob cut, there is still a wide range of bridal hair accessories available for short hair. Nowadays, most brides use flowers, hair vines, clips, and crowns to give a stunning look with short hairs. If you are a bride to be and looking for a pixie bridal hair style, then you are at the right place.
Wedding Hair Accessories for Pixie Cut
Following are some of the best wedding hair accessories for a pixie cut.
Clips and Slides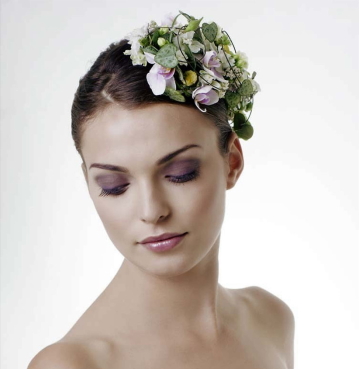 Attaching an ornamented hair clip or even a slide to the pixie cut will quickly wrap up your bride's look. Depending on your pixie cut to size or how much hair density you have, you can choose a tiny or bigger accessory.
Crowns and Headbands
Each bride likes to be a princess at her wedding ceremony. There's nothing more royal than a crown to makes you stand tall as well as be proud of yourself. It tends to work very well with short-textured hair straight through to shoulder-length. And besides, if you want something a little gentler, you can always select a headband.
Flowers
The beautiful brides always entangle beautiful flowers in their shorter hair to get an elegant look. Choose subtle single stems straight through to maximum flower crowns. Furthermore, the wedding bouquets or even wedding flowers are perfectly matched.
Hair Vines and Chains
The elegance of carrying a hair vine and even chain can be ideally placed on your already stunning hair. Be it on the crown or even on your forehead. People admire all the various accessories that our brides wear with their shorter hair.
Bohemian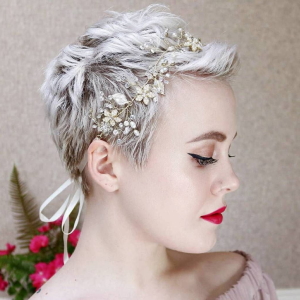 If you would like to create a poetic ethereal bohemian feel, a gentle hairpin will sweeten your appearance. Hair vines usually hold on to a comb or even a Kirby grip – if you pass two Kirby grips over one another as you lock the vines to insert the slight dimples in them, establish a 'lock' that keeps your vine in position even in shorter hair.
Rustic and Botanical
If you are organizing an outdoor-inspired, rustic, and botanical marriage ceremony, a basic green-themed hair vine and perhaps circlet will help you wrap up your appearance. The vintage gold crystal types exactly look rustic and even a little bit twig-like – ideal for a forest wedding! A circlet is a good way to bring a feel of flower crown chic to your appearance – without overpowering your shorter hair with fresh flowers. Also, there is a benefit that an embellished crown of flowers won't faint or turn when the night comes!